Top Innovators Expect US$250 Billion, Five-Year Revenue Boost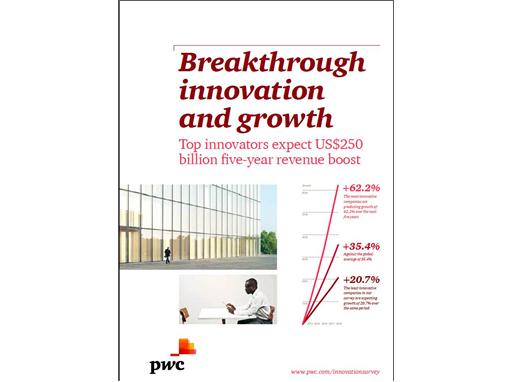 Dalian, China – September 11 2013
– The world's most innovative companies expect to grow by more than 60% over the next five years, adding a total of more than US$250 billion in new revenues as a result of sophisticated approaches to innovation in all areas of their operations.
A new PwC study, Breakthrough Innovation and Growth--your $500 million opportunity, released here at a meeting of the World Economic Forum, found a direct correlation between excellence in innovation and superior revenue growth. According to the study, the top 20% of innovators worldwide say their growth rate over the next five years will be double the global average and three times higher than that of the least innovative companies.
Companies are fundamentally changing the way they innovate, the study found. Innovation has moved beyond products and services and now regularly encompasses business models, operating systems and customer experience. Additionally, collaboration with both internal and external partners has become vital to innovation efforts.
Press Release and Documents
Contacts
Mike Ascolese

Public Relations Director

United States

+1 646-471-8106