Telecom Operators to Kick-Start Network Decommissioning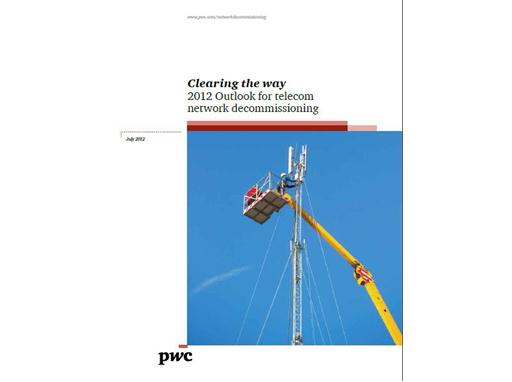 Telecom operators around the world plan to decommission their older networks at the same time as they upgrade their network technologies to improve performance and increase capacity. Nearly 90 percent of wireline operators and more than 60 percent of wireless operators said they intend to decommission legacy networks during the next five years.

In its report 'Clearing the Way: The 2012 Outlook for Telecom Network Decommissioning' PwC's Global Communications Industry Practice found that operators are targeting network decommissioning primarily as a means of reducing operating costs. Many wireless operators, for example, continue to operate 2G and 3G networks while deploying 4G technology. Similarly, many wireline operators are maintaining copper access, while overlaying it with fibre.

At the same time, demand for new telecom services continues to soar. PwC's survey of telecom operators found that nearly half of all executives responding said their company had experienced network traffic increases of more than 50 percent in the past year, while 30 percent of wireless operators from around the world reported traffic increases of more than 150 percent.

"The rollout of new communications technologies means that some older networks are becoming outdated and underutilized, and therefore more expensive to operate. When the cost of maintaining older networks becomes too high, decommissioning is often the only answer," said Dan Hays, PwC's US Wireless Advisory leader.

While cost cutting was cited as the main attraction for potential network decommissioning, other factors included improvement in customer experience, elimination of redundant or overlapping wireless networks, and migration of traffic to more efficient networks.

For wireless operators, traffic migration presents a significant opportunity, the report said, as 4G networks can potentially carry five to 10 times more traffic on the same spectrum as 2G or 3G networks. Shifting traffic also enables the clearing and refarming of 2G and 3G spectrum for future use. While more than 90 percent of operators who intend to decommission a wireless network said it would be a 2G technology, over a third also said they planned to decommission a 3G network, demonstrating the rapid pace of technological change and the shortened time to recover investments in 3G capacity.

For wireline operators, decommissioning of copper-based networks was the top priority. The growing use of advanced technologies such as fibre-to-the-home (FTTH) and Ethernet-over-fibre (EoF) is clearly causing operators to re-evaluate the costs of operating and maintaining copper networks.

Turn it off?
Telecom operators were split on strategies for asset removal in decommissioning. Over 75 percent said they plan to physically remove assets and equipment from their networks, with the vast majority hoping to sell or otherwise dispose of equipment. About a quarter of respondents said they plan to power down older networks and abandon them in place.

"One key strategic element in decommissioning is the decision whether to simply turn the networks off, or to physically remove and dispose of the assets in them. Operators risk damage to their reputations for environmental responsibility if they abandon their networks in place or dispose of them haphazardly. They must analyse the costs of asset removal, transportation, processing, and storage, against the potential benefits of tax savings, reuse, resale, and recycling, in order to maximize the overall proceeds of network decommissioning," Hays said.

On the horizon
While 73 percent of wireline network operators said they have decommissioning strategy and plans in place, just 48 percent of wireless operators concurred. Over 80 percent of both wireless and wireline operators expect decommissioning programs to take three to five years or more to complete. This may be because they often require modification of thousands of leases and removal of millions of assets.

Adding to the complexity of decommissioning, only one fifth of wireline operators and one third of wireless operators said they were able to track all their assets. In fact, half of wireline operators and a third of wireless operators said that less than 50 percent of their assets were catalogued and managed.

Said Hays "Network decommissioning represents a great challenge for telecom service providers worldwide. Both wireline and wireless operators share similar concerns and risks focused on costs and the potential impact on ongoing service. Strong planning and execution, including accounting for potential offsets to costs, will be critical to success."

ENDS

About the Study
During March and April of 2012, PwC conducted a global study of the outlook for the decommissioning of telecommunications networks. Thirty one companies from around the world participated. The study, conducted primarily via an online survey, included the collection of information from executives worldwide at both wireline and wireless operators. Survey questions covered drivers, plans, readiness, and key concerns associated with network decommissioning. The survey was developed by PwC's global telecommunications practice, with data collection conducted by the firm's International Survey Unit (ISU).

About PricewaterhouseCoopers
PwC firms help organisations and individuals create the value they're looking for. We're a network of firms in 158 countries with close to 169,000 people who are committed to delivering quality in assurance, tax and advisory services. Tell us what matters to you and find out more by visiting us at www.pwc.com.

'PwC' is the brand under which member firms of PricewaterhouseCoopers International Limited (PwCIL) operate and provide services. Together, these firms form the PwC network. Each firm in the network is a separate legal entity and does not act as agent of PwCIL or any other member firm. PwCIL does not provide any services to clients. PwCIL is not responsible or liable for the acts or omissions of any of its member firms nor can it control the exercise of their professional judgment or bind them in any way.

2012 PricewaterhouseCoopers. All rights reserved.
Press Release and Documents
Contacts
Mike Ascolese

Public Relations Director

United States

+1 646-471-8106