Q2 2014 Strongest Quarter for Global Tech IPOs since 2008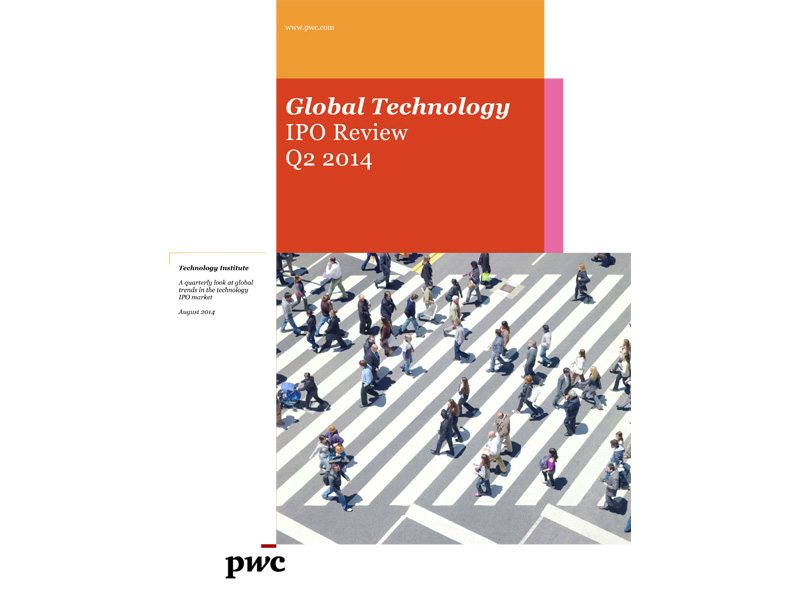 Global tech IPO activity surges with 40 IPOs and US $12.1 billion in proceeds, a year-over-year increase of 135% in IPOs and 322% in proceeds
IPOs in the technology sector exceeded industry expectations in the second quarter of 2014 with more than two the number of tech IPOs compared with the same quarter last year, according to PwC's Q2 2014 Global Technology IPO Review. Strong capital markets in the US and steadily improving worldwide economic conditions led to the record quarter for tech IPOs, with 40 companies going public in 10 countries and on 10 exchanges. Improved economic conditions in the Eurozone facilitated the return of tech IPOs in Europe, with listings on the London Stock Exchange and Euronext in Paris.
Raman Chitkara, Global Technology Industry Leader, PwC, said:
"With the results this quarter, the first half of 2014 has now witnessed more tech IPOs than all of 2013. Barring a major market disruption, 2014 has the potential to surpass even pre-financial crisis global tech IPO activity."
US and Chinese tech companies fuel IPO surge
US stock exchanges continued to dominate global tech IPO activity. Twenty-four companies completed IPOs on the NYSE and NASDAQ in Q2'14 compared to five in China (inclusive of three in Hong Kong) and eleven across other exchanges.
Both US and Chinese tech companies continued their growth trajectory. Fourteen US companies went public compared to 12 in Q1'14 and proceeds surged by 159% to US$4.0 billion. Thirteen Chinese companies completed IPOs, but only two of those deals listed on Chinese exchanges in Shenzhen and Shanghai. Chinese companies accounted for two of the top ten deals in the quarter with aggregate total funds raised increasing by 272% over Q1'14.
Resurgence of Europe
IPOs made a strong return in Europe, with more dollars raised by tech companies in the first half of 2014 than in any full year since the financial crisis in 2008. Eight European tech companies went public, raising US$4.02 billion. Of these, five listed in London, one on the Euronext in Paris and two on NASDAQ.
Cross-border listings rebound
Cross-border deals made a return after a brief decline in Q1'14, with 28% (11) of the companies raising funds from exchanges outside their headquarters country.
Subsector movement
Internet Software & Services was the leading subsector for tech IPO offerings, with 20 deals and US$5.1 billion in proceeds. The Software sector brought 11 deals to market, raising US$3.1 billion in total. Increasing Internet penetration and expanding commerce in China and the ASEAN emerging economies, coupled with the shift from product to service across all industries continues to drive innovation and opportunity in these sectors.
Notes:
The 40 IPOs year-over-year increase of 135% and US $12.1 billion in proceeds year over year increase of 322% are based on issue size greater than US$40 million.
Further information is available for viewing and downloading from our Web site at
pwc.com/globaltechipo
Follow Raman Chitkara, Global Technology Leader, PwC, on Twitter: @Raman_Chitkara
PwC helps organisations and individuals create the value they're looking for. We're a network of firms in 157 countries with more than 184,000 people who are committed to delivering quality in assurance, tax and advisory services. Tell us what matters to you and find out more by visiting us at www.pwc.com.PwC refers to the PwC network and/or one or more of its member firms, each of which is a separate legal entity. Please see www.pwc.com/structure for further details.
Press Release and Documents
Contacts
Alayna Francis

PwC

United States

alayna.francis@us.pwc.com

+1 646 471 4039