PwC European Hotel Forecast Expects Growth in 2014 and 2015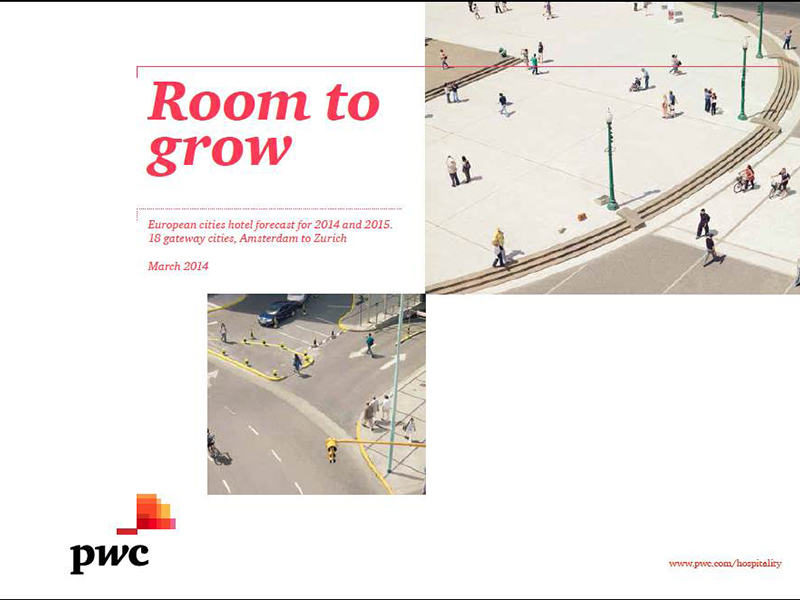 New York, 3 March 2014‑‑‑Growing optimism about economic growth is fueling expectation for hotel sector growth in 17 of 18 major European cities surveyed in the third annual PwC European Cities Hotel Forecast. This year's report explores revenue and occupancy forecasts framed within the context of influential megatrends and challenges facing the European hotel sector.
All of the 18 cities featured in the forecast are crucial gateway cities and/or business and tourism centres – some anticipated to become mega cities – and mirror challenges facing other cities in Europe where position on the economic and hotel cycle is crucial. Some cities are clearly better placed to grow than others, given a variety of factors including economic stability, regulation, supply and demand.
The cities predicted to have the greatest revenue per available room (RevPAR) growth in 2014 are Dublin, followed by London and Paris, then Edinburgh, Berlin, Frankfurt, Vienna and Moscow. In 2015, London is predicted to lead RevPAR growth, followed by Dublin, then Lisbon, Prague, Moscow, Edinburgh, Zurich and Frankfurt. In Dublin, a lack of new supply and strong demand is expected to drive RevPAR over each of the next two years by 5.2% and 3.8% respectively. Despite sizeable supply increases, strong demand means London is forecast to see the flip side of Dublin, with RevPAR growth of 3.8% and 5.2% in 2014 and 2015, respectively.
Press Release and Documents
Contacts
Alayna Francis

PwC

United States

alayna.francis@us.pwc.com

+1 646 471 4039