Missed opportunity for private equity on ESG management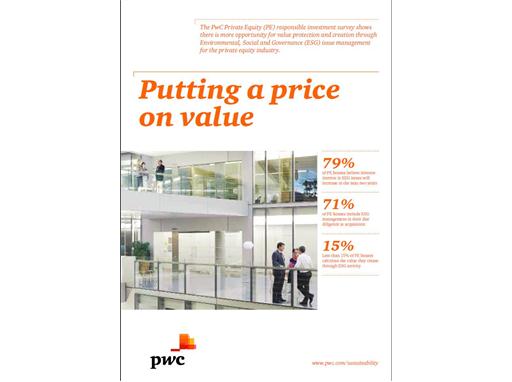 London, 1 Oct 2013‑‑New research from PwC has found that private equity firms are missing an opportunity to put a value on the improvements they're making within their portfolio companies, from implementing their environmental, social and governance (ESG) management programmes.
The report, Putting a price on value, based on the largest ever survey of the private equity industry's attitude to ESG issues, found that less than 15% of PE houses  calculate the value they create through ESG activity. This is despite more than 80% of respondents saying that they monitor ESG activities.
Press Release and Documents
Contacts
Hilary Downes

-

United Kingdom

hilary.n.downes@uk.pwc.com

+44 207 213 4706

+44 07718 340113