Leading companies reap competitive advantage from managing their supply chains as a strategic asset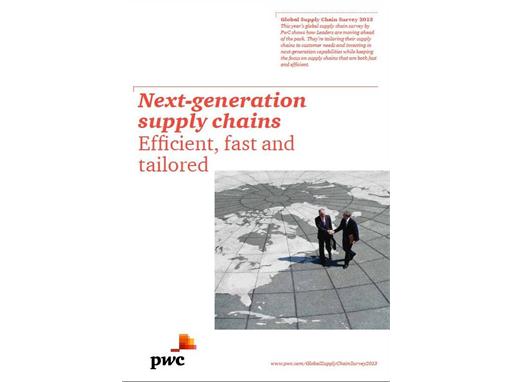 Erratic macroeconomic cycles along with disruptions caused by natural disasters have made supply chain management both more difficult and important to business success. To adapt to this dynamic environment, executives are actively managing their supply chains utilising strategic and operational levers at their disposal to transform vulnerabilities into competitive advantage.
"Leaders are investing in next-generation supply chain capabilities that enhance profitability while meeting the needs of individual customers," said PwC's Global Operations Leader, Mark Strom. "Responsive supply-chain configurations not only drive performance, but allow companies to serve their customers seamlessly in turbulent market conditions."
According to PwC's Global Supply Chain Survey there are six key findings that speak to leading edge practices:
Supply chain leaders deliver both better than average financial results and customer responsiveness. Leaders enjoy a 2X profitability advantage as compared to laggards, and a 17-point on-time delivery percentage advantage. It starts with recognition of the supply chain as a strategic asset. There is room for improvement—less than half of survey respondents say their companies view the supply chain as a strategic asset.
Leaders focus on best-in-class delivery, cost and flexibility to meet increasingly demanding customer requirements. The two factors that create the highest value are maximising delivery performance and minimizing supply chain cost.
Leaders have a clearly defined go-to-market approach, and 83% of leaders tailor their supply chains to meet the needs of different customer segments. Laggards are more apt to take a 'one-size-fits-all' approach with fewer supply chain configurations.
Leaders often outsource production and delivery, but retain global control over core strategic functions such as new product development, sales and operations planning (S&OP) and procurement.
Supply chain leaders in both mature and emerging markets invest heavily in advanced capabilities that differentiate them from their competitors.
Interest in next- generation technologies and sustainability is growing. More than half of survey respondents said they are implementing or plan to implement new tools for process automation or transparency. More than two-thirds think sustainability will play a more prominent role in supply chains in the future.
This year's Global Supply Chain Survey 2013 is the ninth such survey conducted by PwC; 503 supply chain executives from a broad range of industries in Europe, North America and Asia were interviewed between May and July 2012. The full report on the survey can be found at
www.pwc.com
.
www.pwc.com/GlobalSupplyChainSurvey2013
Notes to Editors:
About PricewaterhouseCoopers: PwC firms help organisations and individuals create the value they're looking for. We're a network of firms in 158 countries with close to 169,000 people who are committed to delivering quality in assurance, tax and advisory services. Tell us what matters to you and find out more by visiting us at
www.pwc.com
.
'PwC' is the brand under which member firms of PricewaterhouseCoopers International Limited (PwCIL) operate and provide services. Together, these firms form the PwC network. Each firm in the network is a separate legal entity and does not act as agent of PwCIL or any other member firm. PwCIL does not provide any services to clients. PwCIL is not responsible or liable for the acts or omissions of any of its member firms nor can it control the exercise of their professional judgment or bind them in any way.
2012 PricewaterhouseCoopers. All rights reserved.
Press Release and Documents
Contacts
Mike Ascolese

Public Relations Director

United States

+1 646-471-8106