Global Market Capitalisation Tracker Shows US Businesses Eclipsing the Rest of the World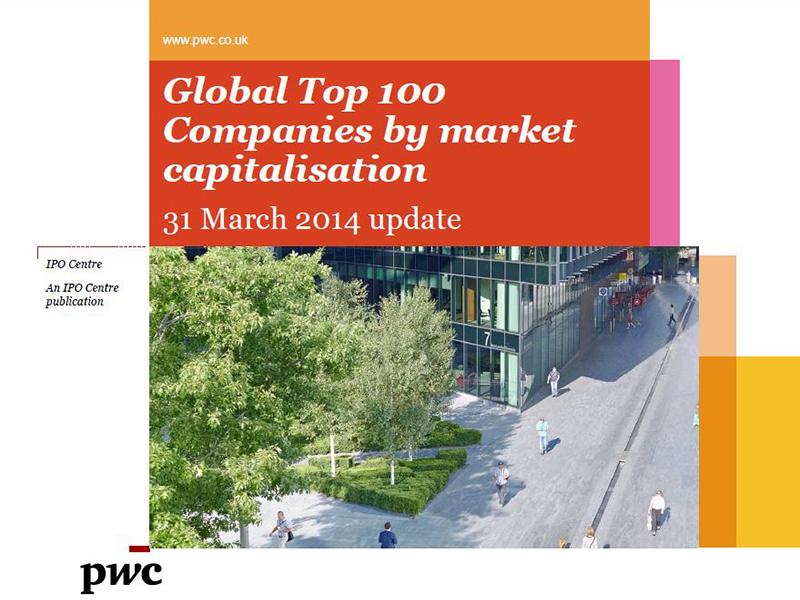 Almost half the world's top 100 listed companies are American.
Combined market capital of global 100 rockets by more than six trillion dollars since 2009
Apple remains the most valuable company ($469bn)
Lowest market cap on the list is $81bn, up 50% from 2009
Average market cap has almost doubled to $150bn
Three companies went straight into the top 100 through IPOs or spin-offs
London, 25 June 2014 ‑‑ The United States now boasts nearly half of the world's 100 most valuable companies with 47 companies compared to 42 five years ago, and 33 in 2008, a PwC study has found. 
The research, conducted by PwC's IPOs Centre finds  that between 2009 and 2014, the total market capitalisation of the world's top 100 companies ballooned by more than six trillion dollars, an average increase of $60bn.
During the past five years, the total market cap of those surveyed grew 79% from $8,402bn to $15,020bn, while the threshold to enter the top 100 now stands at $81bn – more than 50% higher than it was in 2009.
Clifford Tompsett, capital markets partner at PwC, said:
"What is truly remarkable is that the US has underlined its domination of the ranking - now almost half the top 100 global companies are American.
"Without this financial clout and innovative drive, other companies in other regions will have their work cut out to compete with the US giants. This also explains why the large BRIC companies have slipped in our global rankings.  However, the anticipated IPO of Alibaba later this year could see the return of Chinese companies challenging this US dominance.
"Also it is remarkable that three companies have directly entered the global top 100 via an IPO or spin off." 
Eurozone companies in the index held their position at 18 companies.  The UK now has eight companies in the Top 100 compared with nine in 2009, and ten in 2008.
The biggest fallers were the BRIC countries with companies from China and Hong Kong falling from 11 to eight and the other BRIC nations falling from six to three. 
This reflects current investor sentiment towards those markets and the fact that these companies have still to emerge beyond their domestic markets with a global presence, PwC says.
Overall, 32 companies have dropped out since 2009 (28 through falls in value, and four by acquisition, merger or separation).  Of the 32 which have joined the index, 29 were through growth, while three were due to IPO or spin-off – Facebook, Agricultural Bank of China and the spin-off of AbbVie from Abbott.  Looking forward, we would expect to see Alibaba to go into the Top 100 rankings when it IPOs later this year.
The technology sector has put down a marker during the last five years, rising from sixth to second highest by market cap when the index is broken down into business sectors.  In 2009, nine tech firms were worth a combined $997bn. In 2014, the market cap of the 13 tech companies surveyed has rocketed to $2.5trn, PwC added.
About PwC
PwC helps organisations and individuals create the value they're looking for. We're a network of firms in 157 countries with more than 184,000 people who are committed to delivering quality in assurance, tax and advisory services. Tell us what matters to you and find out more by visiting us at www.pwc.com.
© 2014 PwC. All rights reserved
PwC refers to the PwC network and/or one or more of its member firms, each of which is a separate legal entity. Please see www.pwc.com/structure for further details.
Press Release and Documents
Contacts
David Jetuah

Media Relations

United Kingdom

+44 (0)20 7212 1812