Fifty six percent of Chinese companies invest more than 10% of revenues in digital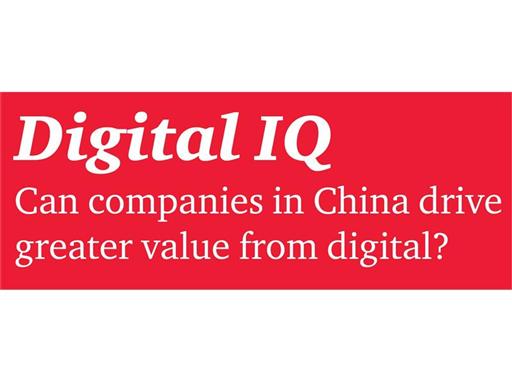 PwC's 7th Annual Digital IQ Survey, reveals that companies in China are confident they understand the value of digital technology and are able to weave it into the fabric of their organisation. They believe they have all the support they need in terms of a CEO who champions Digital and the technology skills needed to execute on their digital vision. They are positive about their deployment of technology: 90% agree or strongly agree with the statement "We proactively evaluate and plan for security and privacy risks".
They're also spending a significant amount on digital. Over half (56%) of the companies we surveyed in China are spending more than 10% of their revenue on digital enterprise investments; 10% are spending more than a fifth of their revenue on digital.
However, when compared with the global average, respondents from China are less confident around their use of data: only 32% agree/strongly agree that they "effectively use the data they capture" (vs 65% of all respondents. They see location-aware data and mobile customer interaction data as most important to their competitiveness but are perhaps not making adequate use of other and new sources of data such as social media data, data from cloud-based applications and Internet of Things and sensor data, which may provide greater value and competitive advantage.
There are a number of areas where China's results diverge from the global results and therefore where business leaders in China could consider whether an alternative approach would bring greater value. The key areas of difference are as follows:
• Digital enterprise investments. In China, business leaders are spending the largest proportion of their digital budgets on IT and marketing. Globally, companies are also investing in IT and marketing, however they're also spending more of their digital budgets than China in areas such as customer service, operations and within the enterprise functions (such as HR, Finance, Risk, Compliance. The majority of respondents from China are spending less than 10% of their digital budgets in these areas.
• Core digital skills (most important to their business). Respondents in China were far more likely to identify Technology Architecture and Design as the most important digital skill (76% vs 40% overall). Globally, companies are placing more importance on data analytics skills (46% vs 35% in China).
• Adopting new and emerging technologies. In China, most companies take a technology-driven approach (68%). They evaluate many new and emerging technologies that might have an impact on business performance. They're less likely than the global average (18% vs 30%) to characterise their approach as being business-driven (ie. having a proactive and systematic approach to filtering technology based on defined business criteria).
• Exploring and acting on high priority technology innovation. For companies in China, the primary way they explore and act on high priority emerging and disruptive technology innovations is through hiring a third party (40% vs 26%). Globally, companies are 3x more likely to use a dedicated innovation or lab group to explore high priority technology innovation, as compared to companies in China.
Says Dan DiFilippo, PwC Global and US Data and Analytics Leader:
"Increasingly, business leaders worldwide, need to evolve their definition of digital and focus on being more business-driven, to transition away from the traditional focus on IT and technology. Moving towards a more dynamic, enterprise-wide definition of digital, with greater focus on customer facing technology activities, will deliver greater value."
Says Scott Likens, PwC China Information and Analytics Leader:
"Businesses in China have a huge opportunity to take the lead on the global stage when it comes to digital. They have a solid investment in IT and a good foundation of digital skills which will provide an excellent platform for future development."
NOTES TO EDITORS
PwC's 7th Annual Digital IQ Survey will be launched globally on 30 Sept 2015 (http://www.pwc.com/us/digitaliq​​). The survey includes 1,836 respondents from over 50 countries, covering a wide range of industry sectors.
About PwC
PwC helps organisations and individuals create the value they're looking for. We're a network of firms in 157 countries with more than 195,000 people who are committed to delivering quality in assurance, tax and advisory services. Find out more and tell us what matters to you by visiting us at www.pwc.com​.
PwC refers to the PwC network and/or one or more of its member firms, each of which is a separate legal entity. Please see www.pwc.com/structure​ for further details.
©2015 PricewaterhouseCoopers. All rights reserved.
Press Release and Documents
Contacts
Joost Blankenspoor

Global Communications

Netherlands

joost.blankenspoor@nl.pwc.com

+31 (0)88 792 65 96