European business leaders focus on building resilience, growing their customer base and improving operational effectiveness in the face of continuing economic uncertainty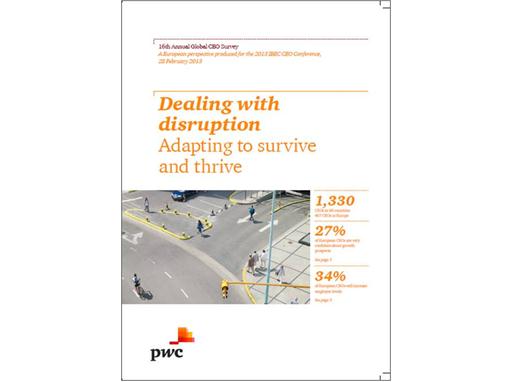 Against the background of an uncertain and volatile global economy, European business leaders' confidence remains constrained by concerns over short term growth prospects. Only 27% of European CEOs say that they are very confident about growth prospects in the next 12 months, compared to 36% globally. Pursuing business opportunities requires confidence in the future, and when the European CEOs were asked about their confidence in relation to revenue growth for the next three years, they were more upbeat with just over a third (34%) saying they are very confident – but again well below the global average of 46%.

The PwC economic projections show that Australia, Japan, North America and the more resilient members of the European Union, including Ireland, are anticipated to show gradual signs of recovery over the period.

These European findings have been extracted from the PwC 2013 Global CEO Survey and are launched at the 2013 IBEC CEO Conference today. The study highlights three overriding priorities that CEOs say they intend to focus on:

• First, targeting specific pockets of opportunity for organic growth, avoiding spreading their resources too thinly. For example, more of the CEOs plan to target growth in known markets rather than test new foreign markets;
• Next, maintaining a clear focus on the customer, taking active steps to stimulate demand, loyalty and innovation in their customer base – through mechanisms ranging from digital marketing platforms to collaborative R&D. For example, the number one investment priority is to grow the customer base and the top area for change is customer retention and loyalty strategies; and
• Finally, fine-tuning operational effectiveness by reducing costs without cutting value and collaborating with trusted partners. For example, improving operational effectiveness is a top investment priority for half of the CEOs. A similar proportion report that they will work with fewer trusted partners where the supply chain is concerned.

Ronan Murphy, Senior Partner, PwC Ireland commented: "Our survey shows that CEOs, globally and in Europe, are generally focusing on shorter term challenges; that they expect economic difficulties to continue, and that they are concerned about building resilience into their organisations – both to meet those challenges and seize future opportunities."

In their bid to keep their organisations 'resilient', all CEOs have a greater preference for growth opportunities in known markets (49%). European CEOs, however, report they have a greater preference for doing business in existing foreign markets (23%) compared to their global counterparts (17%). The countries favoured by the Europeans for such growth are the China, the US, Germany, Brazil and Russia. Slightly more of the Europeans are looking to grow through new M&As/joint ventures or strategic alliances compared to their global counterparts.

Speaking about the research results, Danny McCoy, Chief Executive Officer, IBEC, added:

"Weak growth in Europe and a fragile domestic economy remain the big worries for business in 2013. In Ireland business remains positive and we're seeing more companies successfully develop new export markets to off-set sluggish domestic demand. Surging international investment in the sovereign, banks and utilities demonstrates that those outside of Ireland have growing confidence in the Irish recovery. To build on these positive developments, we now need to see the broad European recovery taking hold and consumer confidence returning."

Other key findings include:

• European CEOs say they would cope slightly better if certain unplanned scenarios were to happen such as major social unrest, recession in the US, a cyber attach, a natural disaster or a health crisis. However, 65% of Europeans say that a break-up of the Eurozone would have a negative impact on their businesses compared to 53% globally;
• The top investment priorities are growing the customer base (51%), improving operational effectiveness (51%) and enhancing customer service (39%);
• Significant change is still on the agenda. Nearly two-thirds (63%) of European CEOs indicate that they plan to change their company's strategy over the next year. The areas identified for major changes are customer growth and retention (82%), organisational structure (72%), technology investments/innovation (69%), managing talent (65%) and the approach to risk management (57%).
• In terms of restructuring, more European CEOs are planning to outsource (Europe: 39%; global:31%) and complete a cross-border M&A (Europe:29%; global 26%).

In terms of threats to future business growth prospects, uncertain economic growth is by far the biggest concern for European CEOs (85%). In addition, they are more concerned (than their global counterparts) about the shift in consumer behaviour, the inability to finance growth and exchange rate volatility. Other key concerns are Government's response to the fiscal deficit and debt burden, over-regulation, increasing tax burdens and the availability of key skills. Interestingly, 40% of European CEOs said that the lack of trust in their industry could endanger their company's growth and a quarter (24%) reported supply chain disruption to be a potential threat.

Availability of key skills a concern
Nearly half (47%) of European CEOs are concerned about the availability of key skills, their global counterparts are even more concerned (58%). All of the CEOs are looking to Government for help. More European CEOs, however, are turning to their government for such help – 63% say that creating and fostering a skilled workforce should be a government priority, compared to 57% globally.

At the same time, it is disappointing to see that less than a quarter (22%) of European CEOs say that they are prepared to invest and pay to fill the talent gaps in the next 12 months. However, it is reassuring that the top investment priority in the longer term (over the next three years) is creating and fostering a skilled workforce. CEOs remain relatively cautious on plans for increasing headcount for the coming year with a third (34%) of European CEOs planing to increase levels compared to 45% globally. In today's challenging environment, still over a third (36%) of European CEOs are planning to cut headcount in the next twelve months, against 23% globally.

Ronan Murphy concluded: "Resilience combines a short term ability to ride out the immediate impact of shocks, with the flexibility to 'future-proof' the organisation by adapting, over the longer term. Resilience is a quality that's becoming ever more important in today's highly connected world, where previously isolated risks have become both contagious and commonplace. As European businesses ride out the current uncertain period, the question is whether the actions being taken now will equip them to adapt, grow and seize future opportunities."
Press Release and Documents
Contacts
Johanna Dehaene

Head of Corporate Communications

United States

johanna.dehaene@ie.pwc.com

+353 1 792 6547