Cloud, Software-as-a-Service and Mobile Trends Redefine the Software Industry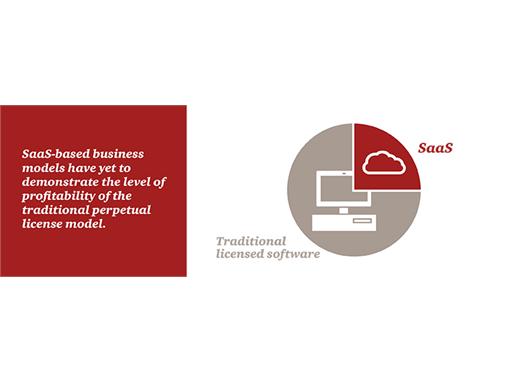 Evolutionary changes in cloud, software-as-a-service (SaaS), IT consumerisation and mobile are fundamentally reshaping how software companies do business, the PwC Global 100 Software Leaders market research report found. Key data and feedback reflect that:
•
SaaS is gaining traction:
Although SaaS represented only 4.9 percent of total software revenues in 2011, a consistent and significant shift towards SaaS is occurring. Roughly half of 800 North American organisations confirmed they evaluate cloud based solutions when they buying software1. Perpetual license revenue has been shrinking since 2004 while subscription revenue (including SaaS) is forecast to grow at a 17.5% compounded annual rate, reaching 24% of total software revenue by 20162. Software companies are now closely evaluating aspects of their business models, including delivery methods, pricing strategies and sales compensation options.
•
Customer is king:
With the adoption of intuitive cloud services, mobile devices and low-cost apps, CIOs are no longer the sole decision makers in the software purchasing process; end users must be satisfied in order to retain and grow enterprise sales. One Software 100 report participant noted, "Our investments around insights from big data, streamlining marketing, and customer experience mean that we've nearly tripled our technology investment."
•
Emerging hybrid models bring new challenges:
There will be a range of business models, from the traditional licensed software to pure SaaS to hybrid approaches, which will pose challenges for vendors for the foreseeable future. Vendors will need to identify and adopt new business models while trying to maintain revenues and profits during a time when overall industry pricing is under pressure. Industry executives also worry that the new subscription-based business models will increase dependency on renewals and risk of customer turnover.
•
Priority on pricing:
Pricing is the paramount issue for the entire sector. With the rise of IT consumerisation via low and no cost online platforms, software companies are already struggling to explain the difference in value between a low-cost mobile app and a full-strength, licensed enterprise software package.
"Cloud computing has enabled SaaS to grow as a new business model. The entire structure of the software industry is fundamentally changing," said Mark McCaffrey, PwC's Global Software Leader. "In the short term, we expect business models will continue to range from traditional licensing to SaaS, subscriptions. Over time, we see a growing range of services and functions, such as PaaS, IaaS and XaaS, will begin to emerge."
According to PwC's recent Future of Software Pricing Excellence report series, the top four companies surveyed earned less than 2 percent of 2011 revenue from SaaS. But, data from the top 100 indicates considerable movement. SaaS revenue accounted for at least 40 percent of software revenue for 10 companies on the Global 1003.
Consolidation in the industry and increasing globalisation are also transforming the software sector. Acquisitions are viewed as an R&D strategy, as well as a key way to acquire talent and build SaaS capabilities more effectively and efficiently.
Currently, North American vendors dominate the Global 100, though the Emerging Markets 100 had $7.9 billion in software revenue combined, with China the leader at over $2.6 bn USD. The Europe, Middle East and Africa markets (EMEA) 100 had more than $50 billion combined, with Germany the leader at $22bn USD.
Conclusion:
The effects of burgeoning globalisation and consolidation are reshaping the architecture of the software sector and how companies develop, market, sell, distribute and support their products.Software vendors will continue to grapple with enterprise customers' changing priorities – they desire the flexibility of cloud, but maintain concerns about security and compliance. The move towards SaaS will continue, but the shape and form of business models in the software industry is evolving.
"Software companies should not underestimate the influence of the ability of SaaS to capture instant feedback from users, to improve existing products, provide better tech support, and develop new products and features," McCaffrey added. "It is in software companies' best interest to evaluate and harness the shifts in the sector. The best companies will evaluate and embrace change by adapting their models and practices. The rest will be left in their wake."
Notes:
The PwC Software 100 report compiles relevant data for calendar year 2011, the most recent set of complete financials available. In all, software revenues for 294 vendors worldwide, including the top 100 globally, the top 100 in two geographically defined markets – North America, and Europe/Middle East/Africa (EMEA) – and one market defined by maturity, Emerging Markets (China, India, Brazil and others) were included in the survey. For access to the Software 100 study, please visit
www.pwc.com/globalsoftware100
. For additional analysis and commentary on PwC's Software Pricing Series, please visit: www.pwc.com/softwarepricing
1
IDC Worldwide Software License Revenue 2012-2016 Forecast
2
IDC Worldwide Software License Revenue 2012-2016 Forecast
3 PwC Global Software 100 Leaders Report
PwC helps organisations and individuals create the value they're looking for. We're a network of firms in 158 countries with more than 180,000 people who are committed to delivering quality in assurance, tax and advisory services. Tell us what matters to you and find out more by visiting us at
www.pwc.com
PwC refers to the PwC network and/or one or more of its member firms, each of which is a separate legal entity. Please see
www.pwc.com
structure for further details.
© 2013 PricewaterhouseCoopers. All rights reserved.
Press Release and Documents
Contacts
Alayna Francis

PwC

United States

alayna.francis@us.pwc.com

+1 646 471 4039