Cloud Services Demand Grows for Telecommunications Sector, PwC Research Finds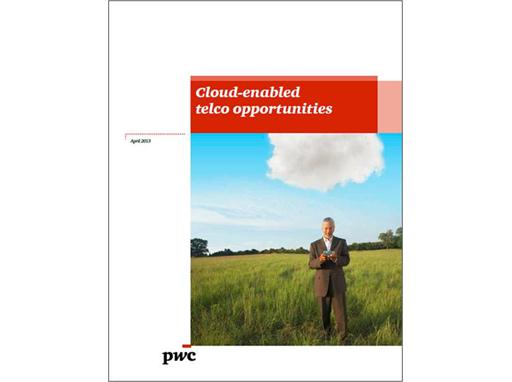 Reduced spending on IT, increased competition and an overall struggle to find growth in traditional revenue lines are leading telecommunications operators to increase investment in the cloud services market, PwC finds in a new research paper, "Cloud Enabled Telco Opportunities." The crucial question for Telcos is whether they can continue to evolve their existing operational model or if cloud requires them to build something new, before officially offering robust cloud service solutions.
"As cloud demands continue to increase, small, medium and large companies will all need to integrate and manage a variety of cloud-related services, said Pierre-Alain Sur, Global Communications Industry Leader, PwC, "With their existing capabilities, Telcos have a huge advantage to create a system that simplifies the management of cloud services but considerable operational changes must occur for efficient solutions to be offered to customers."
Opportunities and Challenges
Though the B2B enterprise solutions market is still dominated by predominantly 'on-premise', services, 41% of companies are now deploying some form of cloud services
1
. Telcos are well positioned to serve the B2B cloud market, as they own the network upon which the "Over-the-Top" (OTT) cloud applications and services are delivered. An inability to modify their existing delivery flow and develop automated and streamlined processes and systems could prove a hindrance to Telcos unwilling to invest in massive infrastructure and process overhaul, the report finds.
Telcos ignoring the adoption of cloud do so at their own peril. The PwC cloud research finds the percentage of worldwide information and communications technology (ICT) spending attributed to telecom services has been steadily decreasing – from 48% in 2010 to 46% in 2012
2
. Spending on telecom services is expected to trend downward and is projected to comprise only 44% of overall ICT spending by 2016
3
.
Telcos have successfully managed wide area network (WAN) solutions, but deeper outsourcing or specific managed services for customers frequently led to 'bespoke' features that are not part of the standard model the "factory" can repeatedly deliver. The extra costs and issues associated with tailor made features underline the need for operational overhaul, as the cloud model requires significant automation, customer self service and proactive management to limit any outages.
Compared to current managed B2B services, cloud delivery requires a fundamentally different business model, with emphasis on a high degree of self service. Over 50% of customers viewed specialist private cloud vendors as the preferred suppliers of cloud services in three years
4
. As a result, service providers such as Telcos lag the smaller, pure cloud players in driving cloud propositions.
"By leveraging their existing network management capabilities and focusing on a service oriented operating model, Telcos have a chance to create a meaningful end-to-end cloud proposition, said Rolf Meakin, PwC's Global Communications Advisory Leader, "Telcos have the potential to serve their customers unique, evolving cloud needs, but they need to take a deep, meaningful evaluation of their current structure and decide if they want to completely overhaul infrastructure or attempt to renovate existing systems."
Solutions
Cloud will redefine the way businesses operate in the future; from the role of chief technology officer CTO and the IT function to the ways that companies purchase from their service providers. PwC's report outlines changes that will enable seamless transition to a platform that can effectively deliver cloud solutions, including central management of key customer relationships and sharing and leveraging core capabilities across the cloud and existing businesses.
Whether Telcos decide to re-engineer existing operational models or develop a new cloud services platform, PwC has identified several primary changes that can help Telcos to optimise their cloud offerings. These changes include developing reporting tools to enhance customer management and enable customer control. PwC's report also cites the development of strategic partnerships with customers, professional service firms and technology companies as a way to gain the scale required to support global cloud services.
The report concludes that the growing demand for cloud services is a catalyst for Telcos to develop a fresh, more customer focused offering. Telcos will need to harness the best of their current capabilities and create a more customer-centric, scalable set of cloud propositions to become recognized as a true end-to-end cloud solutions provider.
Notes:
1
PwC's Future of IT outsourcing and cloud computing survey
2 John-David Lovelock
"Forecast Alert: IT Spending, Worldwide, 4Q12 Update" (Gartner, Market Analysis and Statistics, January 2013)
3 John-David Lovelock
"Forecast Alert: IT Spending, Worldwide, 4Q12 Update" (Gartner, Market Analysis and Statistics, January 2013)
4
PwC's Future of IT outsourcing and cloud computing survey
PwC helps organisations and individuals create the value they're looking for. We're a network of firms in 158 countries with more than 180,000 people who are committed to delivering quality in assurance, tax and advisory services. Tell us what matters to you and find out more by visiting us at www.pwc.com.
PwC refers to the PwC network and/or one or more of its member firms, each of which is a separate legal entity. Please see www.pwc.com/structure for further details.
Press Release and Documents
Contacts
Alayna Francis

PwC

United States

alayna.francis@us.pwc.com

+1 646 471 4039