Airline Performance Depends on Flyer-Focused Retail Customer Service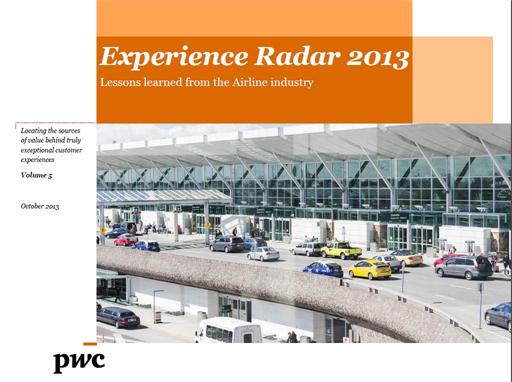 NEW YORK, October 24, 2013 ― In today's competitive travel market, flyers are expecting airlines to behave more like retailers and less like a mode of transportation.  Airlines can successfully create more value by adopting retail customer service approaches that address five key behaviors exhibited by flyers, according to PwC US' Experience Radar 2013: Lessons Learned from the Airline Industry. The report highlights key enhancers derived from various consumer behaviors such as balancing technology, listening to feedback, improving comfort, elevating connectivity and bundling fees, based on input from more than 2,000 business and leisure flyers globally.

According to PwC, flyers are increasingly making purchase decisions based on a wide range of features and value enhancers, from extended seat space options and priority security line access to mobile ticketing and inflight Wi-Fi availability. Nine segments across business and leisure flyers, ranging from the elite focused, to the middle-of-the-road business traveler to a deal-seeking, leisure segment, all have distinct travel preferences and are willing to pay for different amenities. According to the report, studying the individual needs of these nine flyer segments can help airlines better rank their product and service features to identify additional opportunities and bolster top-line growth and bottom-line results.
Press Release and Documents
Contacts
Katura Hudson

PwC US

United States

katura.j.hudson@us.pwc.com

+1 (973) 236-5807