Deal momentum in power and renewables sector shifts to the upside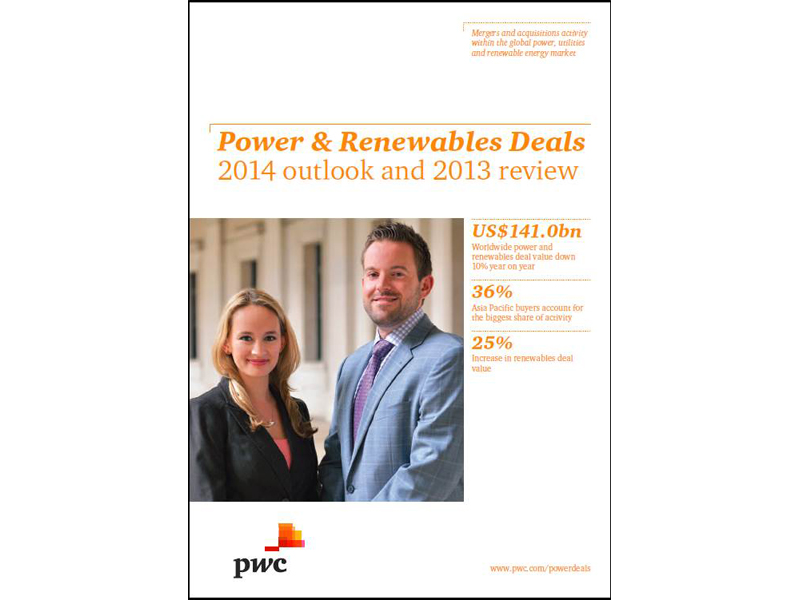 London, 28 Jan 2014‑‑After a year in which M&A activity in the power sector moved down a gear, deal activity is set for a return to an upward trend during 2014, according to PwC's annual Power and Renewables Deals report released today.
Norbert Schwieters, global power and utilities leader, PwC, said: 
"Some encouraging trends lead us, on balance, to anticipate upward deal momentum in the year ahead. After a year in which considerable sector uncertainty has affected deals, we anticipate greater confidence during 2014. Participation in the sector continues to widen with the attractions of contracted or regulated returns pulling in a wide range of buyers."
Technology, finance and politics are all sources of disruptive change hitting the sector and this has been among the factors weighing on deals in 2013. Total worldwide power and renewables 2013 deal value was down 10% year on year. But the Asia Pacific region and the renewables sector bucked the trend. Renewables deal value rose 25% the value of Asia Pacific deals was up 6%.
Press Release and Documents
Contacts
Rowena Mearley

Senior Manager, Global Communications

United Kingdom

-

+44 7730 598 643